Beauty & Self
Books & Music
Career
Computers
Education
Family
Food & Wine
Health & Fitness
Hobbies & Crafts
Home & Garden
Money
News & Politics
Relationships
Religion & Spirituality
Sports
Travel & Culture
TV & Movies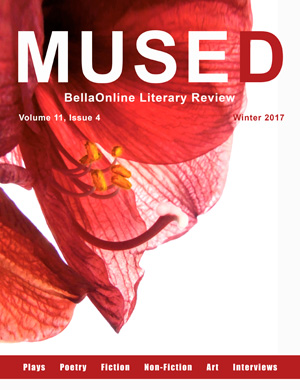 We all travel on this blue-green ball around our very own star each year, sliding a little closer, sliding a bit further away. The balance is critical. Too much closer and we'd roast. Too much further away and we'd freeze.

We should be aware of just how blessed we are that our Earth is "just right" - and do what we can to keep our world healthy. It's the only one we have.

Enjoy the Mused Winter Solstice 2017 Issue



Benefits of Fish Oil in the Mediterranean Diet
Nutrition - Moss Greene, Editor

A healthy Mediterranean diet, that includes omega 3 fish, has now been shown to reduce your risk of heart disease, stroke, metabolic syndrome and diabetes.




Girl in Snow Book Review
Suspense / Thriller Books - Karen Hancock, Editor

Written in the style of Gone Girl, this fascinating debut novel tells the story of a murdered 15 year old girl through the eyes of Cameron, who stalked her, Jude, who hated her, and Russ who is investigating the murder. Well-written and fascinating.




Seeds of Destruction
Baptist - Celestine A. Gatley, Editor

Your thoughts can spiral out of control. One simple thought can plan a seed of destruction in your life. A simple thought that you may consider harmless could turn into a life separated from God.




Green Eggplant Curry Recipe
Indian Food - Sadhana Ginde, Editor

My delicious Green Eggplant Curry hails from the South Indian state of Andhra Pradesh & is made using small, round green eggplants. This unique Asian variety is very tasty & also easily available in any Indian store or Asian market. Try making this simple & yummy curry for your family today :-)




Vogue Knitting Book Review
Knitting - Korie Beth Brown, Ph.D., Editor

It's BIG. Man, is it big. Depending on who you are, this may or not be a problem.




Yoga Journal and Yoga International
Yoga - Korie Beth Brown, Editor

Two great magazizines for yoga enthusiasts - what could be better?


| Google+ |
E D I T O R R E C O M M E N D E D
Make Clothes for 18 Inch Dolls


With this book you can make a complete wardrobe for 18 inch dolls; including dresses, pants, jewelry, a bag and a crocheted outfit.
Eagle One is 2nd to None!


Everyone should have the basics to keep their rides shiny and road ready. The only way to do it is with Eagle One all day long!