Beauty & Self
Books & Music
Career
Computers
Education
Family
Food & Wine
Health & Fitness
Hobbies & Crafts
Home & Garden
Money
News & Politics
Relationships
Religion & Spirituality
Sports
Travel & Culture
TV & Movies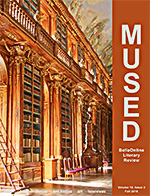 The autumn equinox, that balance point of light and dark, is closely tied to the moon. In China the Moon Festival happens around the autumn equinox, celebrating gratitude and the warmth of good friends and family. This year it was Sept 15th. Our last eclipse of 2016 was a penumbral lunar eclipse on Sept 16th. It fell in conjunction with the full harvest moon, also a symbol of thankfulness and appreciating those who care about you. The autumn equinox is a perfect time to add to those celebrations. It's a wonderful moment to treasure all we have and to share warmth with those who support us.

Autumn Equinox 2016 issue of Mused

Men and Chicken Film Review
Drama Movies - Angela K. Peterson, Editor

Filmmaker Anders Thomas Jensen explores the meaning of family, employing his singular blend of shocking dark comedy and deeply affecting drama.




A Few Good Reasons to Knit Socks
Knitting - Korie Beth Brown, Ph.D., Editor

Why would anyone knit an item that costs only a few dollars at Target? Well, knitters have good reasons!




Fall Color in the Eastern Sierras
California - Korie Beth Brown, Ph.D. , Editor

California isnít known for the spectacular fall colors associated with the East Coast, but the shows here arenít half bad. Take a weekend in the Eastern Sierras and see for yourself.




Yoga For Paddlers
Yoga - Korie Beth Brown, Editor

Paddle sports such as kayaking and canoeing require a strong yet supple core. Here are some ideas for using yoga to improve oneís paddling.




Enjoying a quiet weekend in Bangalore, India
Romantic Getaways - Marianne de Nazareth, Editor

Sitting quietly at home in the company of a good book can be rejuvenating over the weekend.




Women with Long Flowing Hair in Art
Art Appreciation - Camille Gizzarelli, Editor

Carved nautical figureheads may come to mind when you think of women with long, flowing hair. Iíll discuss artists that use this stereotypical 'attractive' woman as models.


| Google+ |
E D I T O R R E C O M M E N D E D
Math Board Game - Addition - Subtraction - Time


The two-sided game board reinforces addition and telling time on one side and the other side is for the subtraction game. Each game has its own deck of cards, simple to follow instruction sheet, and offers variations for different learning levels, one on one, and team play.
Total En Salud


Android and iOS health app for Spanish speakers. Easy-to-understand, engaging health information to transform lives, enlighten, and empower.
Speekee


Speekee, Spanish for children. Simply... °FantŠstico! I found Speekee materials [DVDs, audio CD, parent guide] very complete, easy to use, and the method followed to teach Spanish to young children is effective from the very beginning. By Angeles FernŠndez Get the offer! Type in BELLAONLINE and get the SPEEKEE discount!