Beauty & Self
Books & Music
Career
Computers
Education
Family
Food & Wine
Health & Fitness
Hobbies & Crafts
Home & Garden
Money
News & Politics
Relationships
Religion & Spirituality
Sports
Travel & Culture
TV & Movies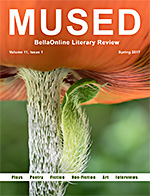 In our modern world of 24-hour diners and around-the-clock email, it sometimes seems as if we've lost track of nature's cycles. But then the Spring Equinox comes along and reminds us to pause. For thousands of years, cultures around the world have recognized this one special day as representing a balance of light and dark. It's a unique moment in time where our world settles in equilibrium – just for a breath. And then the sunlight shines out and pulls us deeper into Spring.

Enjoy the Mused Spring Equinox 2017 Issue



Angie and Me – Book Review
Children's Books - Launa Stout, Editor

Jenna's mom thinks she has growing pains. But it's Juvenile Rheumatic Arthritis - and now the doctors are sending her to the hospital for the summer. I thought only old people get arthritis.




Samantha Smith
History - Vance Rowe, Editor

Ten year old Samantha Smith wrote a letter to Russian leader Yuri Andropov in 1982 asking him why he wants a war with United States. He replied that he didn't want a war with anyone and invited the young girl to Russia.




Ayurveda Lifestyle Wisdom Review
Weight Loss - AJ Alexander, Editor

Ayurveda teaches us that true health is our birthright—and that by adapting to the rhythms of nature, we can bring ourselves back into balance and experience optimal health and well-being.




Public Face Private Vice Book Review
Suspense / Thriller Books - Karen Hancock, Editor

Charlie and his team are investigating the murder of a popular BBC television personality. While the story and characters are fun, this book is written in a very juvenile manner and unless readers have lots of patience, is one that should probably be skipped.




Ghostbusters 2016 Movie Review
Action Movies - Dianne Walker, Editor

"Who you gonna call?" This remake of the cult, classic original stars an all-female cast of ghostbusters for you to call. Melissa McCarthy and Kristen Wiig, bring the laughs as Ghostbusters tries to rid Manhattan of a new onslaught of ghosts. Paranormal activity becomes paranormal comedy!




Avoid Overcommitment in Graduate School
Graduate School - Nicole Amos, Editor

Once you make the decision to commit to going back to school the excitement and motivation to begin can overshadow your capacity for taking on more in your life. Let's look at how to pursue your graduate school goals without overcommitting yourself.


| Google+ |
E D I T O R R E C O M M E N D E D
Turn On Your Inner Light by Debbie Mandel


This entertaining book offers easy to implement stress-management tools for 29 common life situations: techniques, visualizations and a fitness workout to get you off the couch. Take back your power and live more energetically. Don't vent - reinvent!
The Divine Home


An absolutely gorgeous home decorating book on how to decorate with spiritual objects such as santos, retablo, milagros, statues of saints, and crucifixes. Many examples of Santa Fe style and Mexican hacienda style, but also examples of homes in NYC and other places. Beautiful full color photographs everywhere. Serene, spiritual.
LoMásTv


Highly recommended product, if you really want to improve your Spanish. While watching the video you have the option to read, in subtitles, the words in Spanish and, if you also chose it, you can read the translation (in English) for it. Simply... ¡Genial!