Beauty & Self
Books & Music
Career
Computers
Education
Family
Food & Wine
Health & Fitness
Hobbies & Crafts
Home & Garden
Money
News & Politics
Relationships
Religion & Spirituality
Sports
Travel & Culture
TV & Movies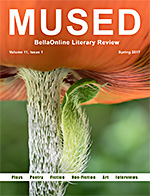 In our modern world of 24-hour diners and around-the-clock email, it sometimes seems as if weíve lost track of natureís cycles. But then the Spring Equinox comes along and reminds us to pause. For thousands of years, cultures around the world have recognized this one special day as representing a balance of light and dark. Itís a unique moment in time where our world settles in equilibrium Ė just for a breath. And then the sunlight shines out and pulls us deeper into Spring.

Enjoy the Mused Spring Equinox 2017 Issue



Best Doctor Search for Fibromyalgia
Fibromyalgia and CFS - Veronica E. Thomas, Editor

Many search for a doctor to either diagnose or treat their fibromyalgia and chronic fatigue syndrome to no avail. Which doctor is better qualified to treat these conditions? Read this article for the answer.




Professional Development for Online Instructors
Distance Learning - Patricia Pedraza-Nafziger, Editor

Whatever your reasons may be, once you become an online adjunct instructor, there are certain requirements that will be expected of you in addition to your teaching responsibilities.




Treat Yourself Cookbook Review
Desserts - Karen Hancock, Editor

Even though you may not want to bake, this excellent cookbook will inspire you to make luscious and creative crispy rice treats. A fun cookbook for all ages!




Eucalyptus Trees in California
California - Korie Beth Brown, Ph.D. , Editor

In many parts of California, eucalyptus trees seem to be part of the natural landscape. However, this particular tree isnít native to the state. Like many other examples of flora and fauna, the introduction of a foreign species to the eco-system has been a very mixed blessing.




The Potato Chip Scarf
Knitting - Korie Beth Brown, Ph.D., Editor

Itís called that because you canít stop at just one. Or because of the shape of the wedges. Or because itís a simple indulgence. Whatever the reason, itís a fun pattern to knit.




Yin Yoga Nomenclature
Yoga - Korie Beth Brown, Editor

Shakespeare once noted that ďa rose by any other name would smell as sweet,Ē but in the yoga world, thatís not exactly true. In the Yin tradition, concepts and asanas are given different names to remind practitioners of the ways in which Yin Yoga differs from its Yang styles.


| Google+ |
E D I T O R R E C O M M E N D E D
Heart Strings - cozy mystery


Sheís certain she knows who the killer is, but will she be brave enough to confront the murderer for the scoop of a lifetime? This quirky cozy mystery is sure to keep you entertained and guessing to the last page.
Ultra Luster Waterless Car Wash


Ultra Luster Waterless Car Wash: Article Coming in Spring but you can buy it now! Waterless Car Washing just got easier and the results just got better! Get yours now at: UltraLuster Wash, Phone: 877-677-4463, Email: sales@ultralusterwash.com, distributors@ultralusterwash.com shipping@ultralusterwash.com customerservice@ultralusterwash.com
Best Organic Body Scrub


Over 20+ healing minerals in dead sea salt make this an excellent natural exfoliator and skin polisher. 100% pure dead sea salt is grounded FINE providing gentle but highly effective exfoliation.