Beauty & Self
Books & Music
Career
Computers
Education
Family
Food & Wine
Health & Fitness
Hobbies & Crafts
Home & Garden
Money
News & Politics
Relationships
Religion & Spirituality
Sports
Travel & Culture
TV & Movies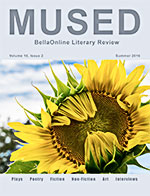 For many people, summertime is the perfect time to explore creativity. Plein air artists bring easels to gardens and beaches, showcasing nature's colors in oils, acrylics, and watercolors. Photographers ferret out a million sights to immortalize. Poets and writers stretch languidly beneath a shady oak tree, listening to the gentle buzz of insects, and constructing entire worlds out of the ether.

Enjoy the creativity of our community of artists - and then explore your own! We'd love to see your works for upcoming issues!

Summer Solstice 2016 issue of Mused

Astronomy ABC - H for Herschel Space Observatory
Astronomy - Mona Evans, Editor

The Herschel Space Observatory is the largest telescope ever sent into space. It's an infrared telescope named in honor of William Herschel who discovered infrared radiation, and his sister Caroline who worked with him. What's infrared? Who launched the telescope? What did we learn from it?




Organic Fragrance - A Scent Worth Trying?
Fragrance - Juliette Samuel, Editor

It only makes sense that if you want to eat organic and wear natural fibers, your scents should be organic as well. Class is now in session in the world of organic perfumery.




5 Tips for Ethnic Skin Care at The Beach
Ethnic Beauty - Juliette Samuel, Editor

Beach bound any time soon? As an ethnic beauty, you'll want to take precautions when enjoying the sun. Learn more as you read 5 tips to consider on your next visit to the beach.




Zootopia Movie Review
Comedy Movies - Ricardo Castano IV, Editor

This world is animals. One little bunny, Judy Hopps, wants to be a cop in the big city of Zootopia. When she finally makes it, she discovers that life in the big city isnít all itís cracked up to be, and that even the littlest chance to do good can change the world.




7 Best Things To Do In Freeport, Bahamas
Cruises - Nancy Schretter, Editor

Located on Grand Bahama Island, Freeport is a popular cruise port of call. Grand Bahama Island features beautiful white sand beaches, three national parks, a wide variety of water sports and much more. If your next cruise is heading to Freeport, here are seven great things to do there.




Tips For Taking A Volunteer Vacation
Senior Travel - Hazel M. Freeman, Editor

Thinking about taking a volunteer vacation? Before you sign up and put your money on the table read over these ten tips to help you choose the right volunteer vacation opportunity for you.


| Google+ |
E D I T O R R E C O M M E N D E D
The Weiser Field Guide to Cryptozoology


The Weiser Field Guide to Cryptozoology by Deena West Budd includes information, interviews, and stories about forty different cryptids seen in various places all over the world by credible eyewitnesses like policemen, rangers, and doctors. Readers will learn where and how to find flying humanoids, hairy humanoids, giants of all kinds including rabbits, bats and spiders, goblins, and vampires.
Making and Dressing Cloth Dolls


This ebook contains patterns and step by step instruction for making 5 different cloth dolls. These are some of the most popular dolls on the Doll Making Site all together in one handy book.
Patient Whiz app for iOS


Track your blood pressure, cholesterol, diet, exercise, EKGs, lab results, and much more! Scan, e-mail, record, and print vital health information. Slash your medical bills. Expedite your diagnoses. Doctor-recommended.